Stuck at home? Want to start a pod?
What a time to be alive.
Yes, you heard me right. We're alive! This is an very different moment in the world and as a person who has been working from home for the last year, I'm here to help you settle in and start communicating in a new way.
With finances tight, I'm offering two new workshops that can help you get going.
First, a FREE 101 workshop this Friday. I will be doing more in this 101 series over the next weeks adding to my skills library for clients.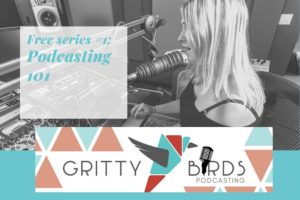 Second, a 4 person cap launch group. I do personalized launches but as things are getting tighter in budgets, I wanted to make something affordable, at the $300 level. Group will start once we hit 3 people.
This is a great option and will also help keep Gritty Birds Podcasting floating while some clients are pausing. It's been a tough spring but our brand is Grit. We are tough and believe in resilience and getting through the hard times through positivity and community.
Link to register is below. You can also sign up on the mailing list for the link and week's offering straight to your inbox on Mondays.