Hello!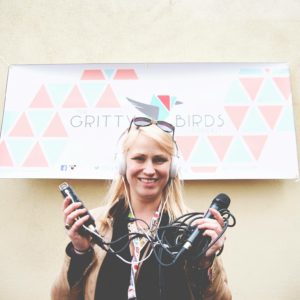 I'm Jeni Wren Stottrup, a lifelong musician who first got into audio while recording middle school vocal audition tapes. Writing scripts and trying to film and record shorts, I filled hours on the road traveling back and forth to visit family and see the US while I was growing up.
Since then, I've had the opportunity to  support hundreds of artists and podcasters, working for amazing artists and companies.
I love the world of music and podcasting and have found a deep love of supporting others in making great content, creating great stories and amazing audio.
I live in the Pacific NW in my home recording studio, where I edit and produce several podcasts, including XRAY.FM narrative music podcast Grittybirds and consult others in creating great audio and content.
My background is in audio and media. I have a masters in Montessori Education, undergraduate in Political Communications/Media and Vocal Performance with a minor in English.
I have worked in audio retail for the last two years at Guitar Center. Previously I worked as the media sponsorship coordinator for PDX Pop, band leader for Jeni Wren, writer for publications including Paste Magazine, Portland Mercury, Vortex Magazine and various festivals. I have spoken at many events including Podcast Movement.
I first started teaching podcasting and writing 5 years ago, both in my classrooms and with Siren Nation festival here in Portland Oregon.
Making the shift to producing full-time audio has been amazing,  developing my studio thanks to grants and two successful Kickstarters. I now am here to help others in the next phase of that journey.
Book a consult and I'd love to chat to see if we're a good fit and how I can support you as a podcaster.
You can book a consult during my office hours over at http://www.calendly.com/grittybirds
Follow us on Itunes Facebook, Twitter, Soundcloud and Instagram at @grittybirds