Whoa!
This week there are two awesome opportunities to get support for your currently existing show OR the show you've got developing.
And guess what, I'm part of BOTH!
SHE PODCASTS LIVE
Next week I'll be speaking, on two panels AND doing one on one coaching at TWO different locations at the inaugural She Podcasts Live!
Tickets are sold out, but if you are attending, check out my schedule!
You can also see my schedule here: https://www.shepodcasts.live/meet-our-speakers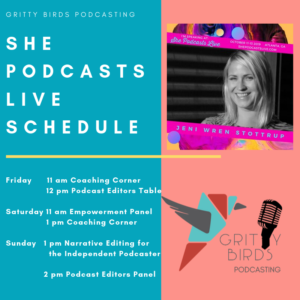 PODCASTERS KIT
Since not everyone can attend She Podcasts and not all podcasters have a budget to travel YET, I'm really excited that I'm part of the Podcasters Kit.
50 podcast leaders including myself.
Less than $40
You'll get access to all the talks PLUS a ton of downloads.
I'll be offering a link to a live version of my talk at She Podcasts Live on Content Development available only to Kit followers AND also including access to the slide deck of my years ongoing Podcast workshop with Portland's Siren Nation.
Since I'm not giving the talk this year, this is the only place you can get this info this fall. It's filled with an insane amount of content on creation, gear, hosts and more.
Pre registration is open now, click HERE or the photo below to sign up for registration reminders as we hit next week!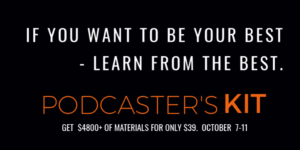 If you haven't yet, be sure to follow me on Instagram and Facebook!
XO
Jeni