Diarrhea Planet Brings High Energy to Treefort Music Fest
In the fourth episode of my Treefort series with DIY label Self Group and photographer Ingrid Renan, Gritty Birds sits down with Diarrhea Planet for a raucous interview that shows off the personality a band who is known for it's off the wall high energy sets.
Arriving with tight time it was a short, but sweet interview with the band who is releasing their third full length , Turn to Gold recorded with Grammy award winning engineer Vance Powell on Infinity Cat recordings June 10th.
Gritty Birds debuts new song from Fog Father
Later in the episode, listen to the first single of Fog Father's upcoming release(TBA), Trapped in a Web, including a short interview from The Gritty Birds Treefort Showcase.
Listen to more episodes from the series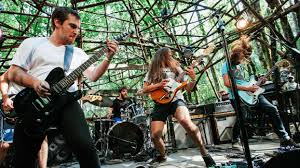 Photo credit: Ingrid Renan
Sound: Jeni Wren Stottrup and Rob Bartleson
Licensing: Special thanks to Diarrhea Planet for the tracks "Life Pass" and "Let it Out" Fog Father for "Trapped in a Web" and And And And for "Whiskey Shakes"
Special thanks: Treefort Music Festival, Self Group
First aired on: XRay FM
www.grittybirds.com
@grittybirds
iTunes, soundcloud, facebook, twitter, instagram